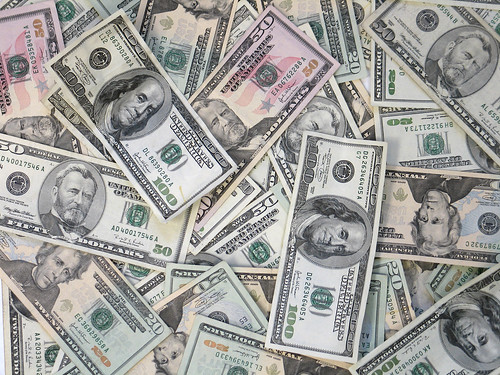 Money!
A long time ago, when I was first joining the workforce, my dad told me not to worry so much about the money a job was going to pay. He said that if I did my best and worked hard, the money would come. So far, I feel like this has held true with any job that I have had.
Garden cross spider
The truck hadn't been running in quite some time so she was excited to take a ride in it with her husband even though they were only going to her parents' house. As her husband was starting to back out of the driveway, she noticed some movement from the sun visor. Down came a scary spider and she jumped towards her husband to get away from it causing him to slam on the brakes and yell at her. The spider got away and she trembled for the rest of the drive not knowing where the scary thing had gone.
The part of life that confuses me the most is how we expect young people to decide their future in high school or early college little to no life or work experience to back up their decision.



Case in point, when I was looking at colleges and majors back in high school, my dad suggested I think of business and I scoffed at him. I wanted to be a teacher. Had ALWAYS wanted to be a teacher and that is what I first went to college to be. After an unforeseen failure to get accepted into the School of Education at the university I was attending, I had no focus or drive to figure out something else. I had never had more than a summer job that would not have led to a career and had no idea what I was supposed to do.



I dropped out of school and got a job. I ended up working for a business, an airline, as a receptionist working with a human resources department. I loved it! I loved every aspect of human resources. I never would have chosen that as a career path without this hands-on experience.



So, three years after dropping out of school and three years working with human resources, I started school to finish my degree with a major in business and graduated two years later.
[Glenariff. County Antrim, Ireland] (LOC)
My dream vacation would be to visit Ireland. Something about the pictures of the rolling green hills has always called to me and I'd love to be able to see it someday.
I could read a bunch of books over and over. I read the Anne of Green Gables series about once a year because for the most part they are light and happy. I have read the Little House series many times because I love the stories of life in pioneer times. I've read Jane Austen's books many times because I love them.



If I had to pick just one. I'd have to say Pride and Prejudice. It is my favorite book of all time and I never get tired of the story. Next in line would be Sense and Sensibility. These two books, in my opinion, are very romantic.
Plinky
and/or
Formspring
to make sure I do a daily blog post (in addition to posting a picture each day).
In order to combat a few years' worth of writer's block. I'm going to be using random prompts from
Current Mood:

artistic